AWRC
Latest Release 14.7
AWRC is the original Atelier Web Remote Commander, with 22 years of history. A superior alternative is the newer AWRC Pro, but if you don't need that much power (or your company does not want that much power!) AWRC is a great choice as well. In its core functionality, AWRC is as performant as AWRC Pro.
Description:
You may be familiar with utilities that allow remote management of computers.
All those utilities require that you install software on the remote computer in order to process your requests and send the information back to you.
The first thing that makes AWRC different is that it does not require that you install any kind of software on the remote machine. Sure, it seems impossible. We thought that also!
The second thing is that AWRC allows you to gather more information from the remote system than remote privileged users can dream about. By far and large, AWRC is the more powerful remote audit tool you can find (with the exception of AWRC Pro, of course).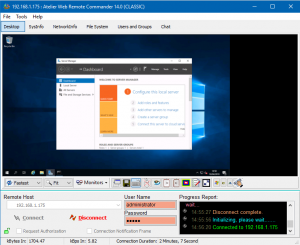 And the the third thing is that AWRC provides a great set of tools for remote computer management. You can do virtually anything on the remote computer you do on the local system.
Time to see by yourself (hype is not our business), download  it right now!