WELCOME
Welcome to the Atelier Web internet site.
Atelier Web is a software development and consultancy firm established in 1999. Our products and custom solutions may be found in organizations in five continents, including many well known companies, state departments and institutions, as well as in thousands of smaller ventures.
We invite you to stop in to get acquainted with our user-friendly and cost-effective software and to join our family of satisfied customers who know what it means to have dependable and easy-to-use products.
We hope you find something of interest and look forward to working with you.
If you have any questions please do not hesitate to contact us.
---
What is New Now?
We added a few more free tools, and improved the existing ones, to our Online Super Tools Section. All tools are Ipv4 and Ipv6 aware and go far beyond what you are used to see. Have a look at the them and bookmark the pages. And we will keep adding new tools  on a regular base (when we promise, we comply!).
---
AWRC Pro 12.3, the latest release of the most powerful remote access software in the World, is now available!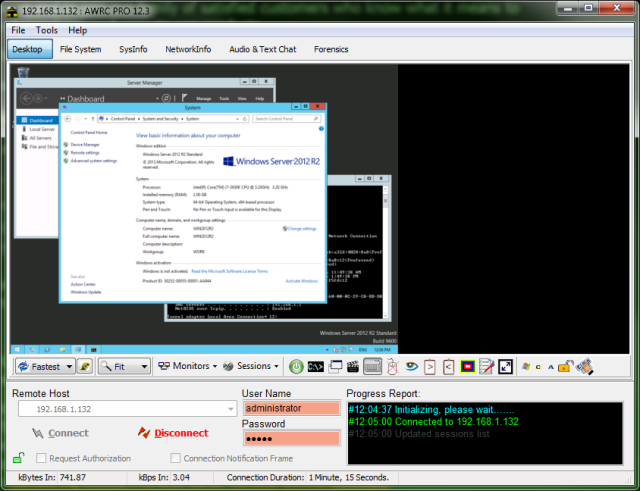 AWRC Pro is worldly-recognized as the most powerful remote access software you can find. AWRC Pro has so many first-class features that allow you to perform much more on the remote computer than an empowered Administrator seated at the console of the remote computer can only dream about. Click on this link to see a table comparing AWRC Pro with other remote access software.



Connect at top speed from a Windows 10 computer to a Windows 2000 computer and vice-versa, or between any operating systems in between, including all server releases. This is really amazing – these days many publishers only develop sluggish software for Windows 7 and above. AWRC Pro is used by Security and Intelligence entities, Schools and Universities, Manufacturing, Banks, Hospitals and thousands of other organizations covering almost every field of human activity.
---
IP locator 4.0 resolves both Ipv4 and Ipv6 to Country/City/Region and ISP from a database of 28 million IP ranges. Queries run at an amazing speed of 300 to 400 searches per second. The data mining engine has been reviewed and improved.