IP locatior
Now resolves IPv4 and IPv6 addresses!
Atelier Web IP Locator (AWIPLOC) is an invaluable network tool that everyone must keep handy in these days when knowing as much as possible about an internet connection can only help in every security or marketing related aspect.
AWIPLOC allows you to access the World's biggest IP geolocation database straight from your desktop or your windows website and know in instants where a certain IP address belongs.
AWIPLOC is free for occasional private use, no time deadlines and no functionality limitation. You are automatically attributed a quota of 200 IP search credits that is automatically renewed periodically. This quota is enough for an occasional private use of the software.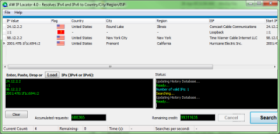 Click to view some snapshots