AWRC Pro
This is the only software in the World that can connect to other computers without installing any software on the remote machine.  It seems impossible. We thought that as well! But this is just the beginning of a long story…
Remote Commander allows you to remotely gather and manipulate more information  than remote privileged users can dream about. It is by far and large the most powerful remote audit and inventory software you can find. And with its great set of tools, you can do virtually anything on the remote system you can on the local system.
Remote Commander is a must-have for System Administrators and Helpdesk personnel. Recommended for a range of special remote access requirements, from Intelligence to Parental supervision.
When full power is the minimum requirement, you need Remote Commander…
AWRC Pro capitalized in more than 10 years experience of AWRC and came up as a completely renewed product, featuring amazing new features such as:
Only software in the World that can remotely access Remote Desktop (and Citrix) sessions.
Only software in the World that can connect to, view and control Remote Desktop/Terminal Service Sessions and Citrix Apps.
Capability to record movies even on motion detection.
Remote Console (if you know what is PsExec, you have the idea).
Full Unicode Support, even for Zipping and Unzipping.
Lists Installed Programs, Updates and Hotfixes.
Runs remotely as 64-bit on a 64-bit operating systems.
And almost 100 more…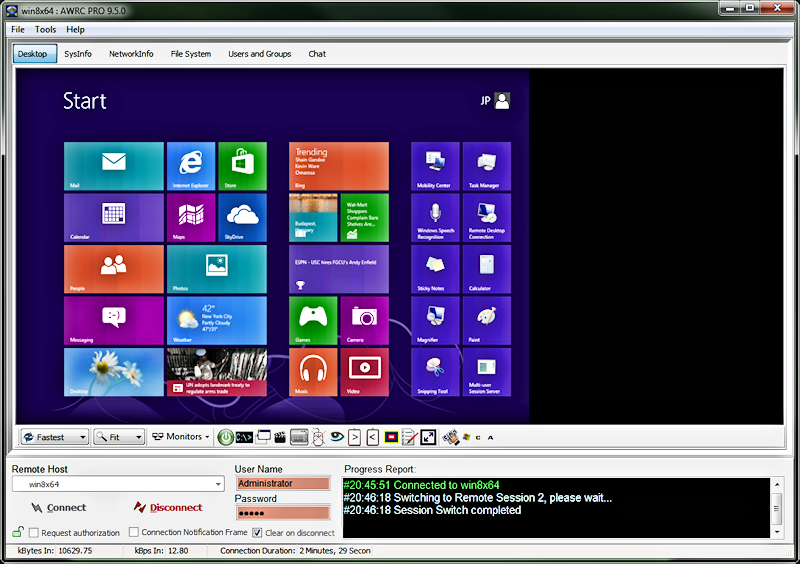 Click to view some snapshots
Feature
AWRC Pro
Old AWRC
Access to the remote computer desktop enabling the launch of software with the mouse or keyboard.
Does not open any ports – it is absolutely transparent to any firewall, providing the Microsoft Networks operation is not blocked by the firewall.
Works within the company's Microsoft Networks LANs and across the Internet.
 
 
 
You can launch multiple instances and remotely access different computers at the same time. The maximum number of simultaneous connections is limited by available memory and CPU speed. Due to its low footprint, it will handle 10 (or more) simultaneous connections without problems with current hardware. No configuration is necessary
 
 
 
A remote computer can be connected simultaneously by multiple clients.
 
 
Supports multiple monitors (up to 10) on the remote computer, you can view and work on any of them.
 
 
 
Simulates all keystrokes on the remote keyboard computer.
 
 
 
Wakes-up from screen-savers with a mouse-click or keystroke. Deals with password protected screen-savers.
 
 
 

Simulates the security attention sequence (Ctrl+Alt+Del) on the remote to enable logon and on the default desktop. All operating systems supported.

 
 
 

Supports User Switching sessions on Windows XP Pro and later (Vista, Windows 7, etc)

 
 
 

Provides access to disks, partitions, folders and files. The partitions or folders are not required to be open shares. Automatically resolve symbolic links and junctions, even hidden or with access restricted.

 
 

Remote files can be downloaded or launched in the remote system. Files can be launched as another user (equivalent to RunAs).

 
 

Local files can be uploaded to the remote system.

 
 
 

Files can be remotely zipped or unzipped.

 
 
 

New directories can be made and files and directories can be renamed.

 
 
 

Remote files and directories can be deleted, copied or moved.

 
 
Allows sending or receiving the Clipboard contents: text, pictures and other standard Windows Clipboard formats.
 
 
Provides disk partition information, namely File System, Type, Serial Number, Volume Label, Capacity and Free space.
 
 

Allows visualization of shares.

 
 

Allows visualization of users list and account details as well as Local and Global groups.

 
 

Allows instant retrieval of password hashes in 32-bit remote computers, for audit of strong password policy enforcement across the organization.

 
 

Allows visualization and management of services. Services can be started, stopped, paused, resumed and even unloaded.

 
 

Allows visualization of processes. 32-bit processes can be killed.

 
 

Allows remote Shutdown, Power-Off and Reboot.

 
 
System Information (Operating System, Processor, BIOS, Memory, Display Adapter and Logical printers).
 
 

Complete and detailed Hardware Devices list.

 
 

Physical memory viewer.

 
 

Ports Finder, which maps applications to open ports

 
 

Connections and Listening Ports, TCP statistics, UDP statistics, ICMP statistics, Routing Table, DNS Servers, Persistent Routes, IP Statistics/Settings, Installed Protocols/Protocol Details, Addressing Information Table, Net to Media Table, Interface Statistics/Settings.

 
 

Chat facility for conversation with a remote interactive user.

 
 
Provides antialiased scaling of remote desktop for comfortable viewing on the local computer. This is the best image at any scale when compared with any other remote access software.
 
 

Uses Windows authentication, which guarantees that only individuals with Administrator privileges on the remote system are able to connect (strong passwords are obviously recommended).

 
 

Can use strong encryption to keep the information out of reach from prying eyes.

 
 

Can request authorization from remote before initiating operations. Not enforced, except by Policy (AWRCP) or special version (AWRC).

 
 
Can show to remote when it is connected.

Not enforced, except by Policy (AWRCP) or special version (AWRC).

 
 
Extended keyboard support and simulation of special shortcuts (such as Alt-Tab).
Complete processes information (cpu usage, command line, virtual memory, I/O counters and many others)
Shows last 5 characters of Product Key
Remotely access, control and switch between RDP/TS sessions (AWRCP 10 or above)
Remotely access, control and switch between Citrix XenApp applications launched from a Citrix XenApp server (AWRCP 10 or above)
Automatically runs as 64-bit (native not .Net) on 64-bit operating system
 
 
Can record quality movies of the connections (with audio comments if desired), including pause and resume and quality and frame rate can be set. Movies are recorded in compact .wmv format.
 
 
Can record a movie on motion detection, suitable for surveillance.
 
 
Zip and Unzip is Zip-64 compatible, supports Unicode in files names and folders and is compatible with Unicode support in Winzip.
 
 

Allows instant retrieval of password hashes in 64-bit remote computers, for audit of strong password policy enforcement across the organization.

 
 

Allows visualization of processes. 64-bit processes can be killed.

Information about monitor on Vista and above (Make, Manufacturer, Serial, Year and Week of manufacturer and many other hardware details).

Full and detailed list of installed programs, updates and hotfixes, both for "all users" and for each user.

Remote Console, equivalent to Sysinternal's PsExec in functionality but easier to use and antivirus safe (unlike PsExec, which is flagged as virus dropper).

High-end Ping tool, able to satisfy the more demanding technicians.

LAN Computers search tool to list the reachable computers, unlike 'My Network Places' which does not detect offline machines even after a few hours.

Wake-on-LAN

Can be configured to run under various feature levels in order to comply with an organization policy.

On multiple multi-monitor systems, you can view all monitors at the same time and work directly on any of them.

Impressive audio engine, fully controlled from the client. Full-duplex conversation, audio monitoring and/or recording. Allows selection of audio devices on local and remote computers. 

Remote Registry view. Works like Regedit.exe. Accesses any built-in account without need to enter credentials.
* For security and safety considerations, access to following capabilities will be restricted and discretionary: *
Keys can be created, deleted, renamed; values can be created, edited or deleted.