Hurricane Tunnel Updater (HTU)
This is a free portable application (does not require installation) that updates the IPv4 address for the Hurricane Electric Free IPv6 Tunnel Broker service (https://tunnelbroker.net/).
The Tunnel update can be done either manually or automatically, and there are a few other options that make the program a pleasure to use for people using that service from a dynamic IP.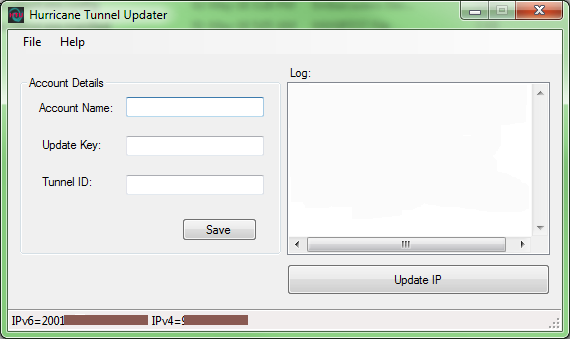 The program uses the .Net Framework and we distribute 2 versions:
Version 1 – Compiled for .Net Framework 2.0
Works in all versions of Windows that support the Microsoft .Net Framework 2.0, i.e. from Windows 2000 all the way up to Windows 10 or Server 2012.
Version 2 – Compiled for .Net Framework 4.52
Does not work in Windows XP or older. It is faster on the supported operating systems.